Andrea and the Love Police - International tour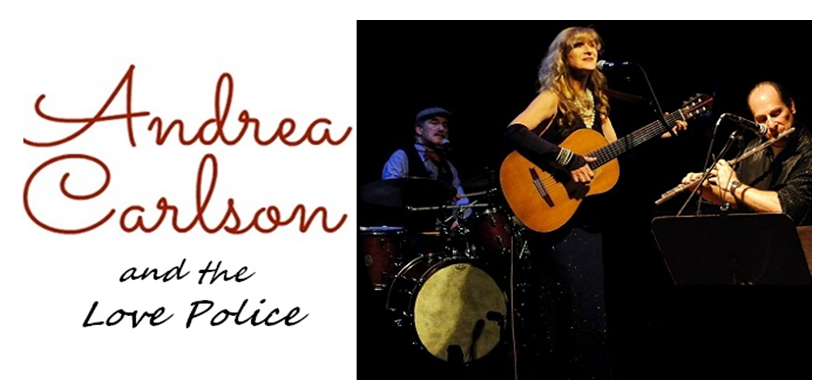 Andrea Carlson has a voice like golden honey! A sparkling and alluring spirit, she warms hearts everywhere with her own brand of retro jazz, swing, blues, and roots music. The easy popularity of her sound shows in her active and far reaching touring schedule - based in Philadelphia, Andrea has performed in a dozen states and as many countries, including six seasons at the Edinburgh (Scotland) Fringe Festival.
Leading her band (the Love Police!), comprised of top jazz musicians from Philadelphia, plus major talents from Chicago to Houston, France and Scotland, Andrea presents engaging arrangements of Great American Songbook, French Chanson, and her own original compositions.
LOVE POLICE VIDEO - Live at the Sellersville Theater
Andrea Carlson has roots in Tennessee, California, Texas, and Illinois. While in college in Chicago, she began her career singing in small groups, and then with a big band that ultimately opened for the late great James Brown. She earned her degree in Classical Guitar at the American Conservatory of Music; after settling in Bucks County, she joined the faculty of the Settlement Music School. Her vibrant fingerstyle guitar playing echoes hints of Django Reinhardt and Charlie Byrd. But the result is all her own, spiced with '20s & '30s Jazz, classically inspired Latin, and Swing - a musical range spanning soft and delicate, sultry and blue, and bold and bright!
Following her first award winning composition "Cryin'", Andrea released a completely original CD "Drivin' Myself Wild For You", including another prize winning song "Mysterious Moon". She followed with the CD "Love Can Be So Nice", showcasing classics and originals in both English and French - her own "Let Me Cook for You" was published in the first-ever Philadelphia Real Book of Jazz.  Her next release "Aimez-vous bien !" (Love well!) consists entirely of French language jazz, including her original "Aimez-vous, aimez-vous bien".  And her most recent album, "Out of My Dreams" is a tribute – all songs by Richard Rodgers and Oscar Hammerstein – to support the Oscar Hammerstein Home & Theater Education Center, in Doylestown.
 "Andrea Carlson delivers her beautiful tunes with her warm and coy voice. Carlson's words cater for the counterpoint: witty, funny and full of life. A delight to the ear in which they touch down." -- Guy Zinger, Station Manager, Adore Jazz on 1.FM / Writer All About Jazz, Amsterdam, Netherlands.
"Andrea Carlson once told me that the first time she heard jazz, she was in love. Well, the first time I heard Andrea Carlson, I was in love. I don't think anyone has ever hooked me with their music as quickly as Andrea did with hers." -- Charlie Silvestri, Up Close and Acoustic, Philadelphia, USA.
 info: www.AndreaCarlsonMusic.com  
booking: Dbopdrummer@yahoo.com  phone: +1 215 432 5416
Like me on Facebook! Follow me on Instagram!