NEW RELEASE!
To Edinburgh and Back
Begun during the Edinburgh Fringe Festival in 2022, and completed in 2023 at MorningStar Studios, Philadelphia - eight wonderful songs with an array of marvelous musicians!   $20 includes flat-rate shipping in the USA

DOWNLOAD HERE!
andrea's first international album
I went to see my friends...
from England, Argentina, and Australia - and we wandered into the studio, in London. Then home again, with six of my favorite songs to finish with Glenn Barratt at MorningStar! Available on BandCamp, click to listen & learn more:
Out of My Dreams
10 great Rodgers & Hammerstein songs - featuring Andrea's guitar and vocal solo... with proceeds going to #SaveOscarsHome !  Available EXCLUSIVELY here! $20+$5 Shipping & Handling
Aimez-vous bien !
My new all-French CD, after wonderful sessions at MorningStar Studios, with a eleven songs and a dozen great musicians and new arrangements (a few songs you may know in English!) - Love, love well!     $20+$5 Shipping & Handling
Love Can Be So Nice - CD
It all began the night I sang for the French Consul... a fresh mix of Andrea's original jazz, French Chanson, and American Songbook classics - passionate and captivating, sweet and sassy, featuring musicians from Philadelphia, Chicago, Buenos Aires, and Paris!     $20+$5 Shipping & Handling
Drivin' Myself Wild For You - CD
The beginning of the MorningStar Studios adventures - a collection of all original songs. Delivered with her playful, sultry voice, skilled guitar playing, and full band back up, Drivin' will have you captivated with each track! The music is retro, jazzy, bluesy, romantic, and fun! You'll be drivin' yourself wild too!  $15+$5 Shipping & Handling

Buy now at iTunes!
My Fonthill Coloring Book
tells the story, in words and a dozen dramatic sketches, of Andrea's artistic reaction to the amazing architectural works of Henry Mercer.  Beautifully crafted, the book itself is an inspiration to see in a new way, regardless of whether you are moved to color the images... but, why not?     $25
My Fonthill Coloring Book is available at Brig O'Doon Coffee House, in Ottsville, and at Andrea's public performances.
Jumbo Canvas Shopping Tote
Sturdy White 12oz Canvas Tote:
14"W x 17"H x 7"D
23" Handles, with flat bottom and sides.
Features DaveBop's Badge de la Gendarmerie     $25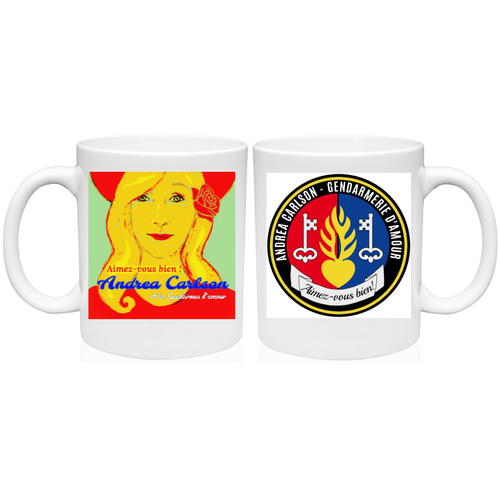 Aimez-vous Ceramic Mug
12oz mug featuring Andrea's chalk sketch and David's Gendarmerie Badge. Microwave safe and just right for your morning café!     $20
Masque des Gendarmes
Non-medical face mask, adjustable ear loops. Material - Polyester
Size - Adult, One size fits most       $25